Updated February 2021 Best hand crank lantern [2021]. A hand crank lantern or flashlight is one of the best sources of light you can have in an emergency.
A hand-crank lantern is similar in looks to a regular battery-powered lamp.
With the exception that it features a mechanism that allows you to power it without the use of batteries, or external power sources.
The Best Hand Crank Lantern 2021
TOP SELECTION

# 1

Goal Zero Lighthouse 600 Lantern

Extremely bright 600 Lm
Weighs just 1.1 pounds
Dualite lighting mode.
Reliable, compact, light, and very easy to use.
Charge will last between 12 and 48 hours depending on settings
Charges via USB connection or hand crank
Emergency flashing red light mode
Can be used to charge small electronic devices, including cellphones
Fold away, rubber coated stability legs

AGPtek 5 Mode Emergency Lantern

Maximum brightness of 240 Lm
5 Charging/power options:Solar, Hand crank, AA Batteries, AC Adapter and Car adapter
USB port for charging cell phones and other small electronic devices
Built in solar panels
6-7 hours to fully charge with solar panel
1 minute cranking produces 20 minutes low level lighting
10 inches high
1.78 pounds
Run time is between 12 on low and 20 hrs on high settings

ThorFire Camping Lantern

Extremely compact when closed
Maximum light 125Lm down to 30Lm
Extremely light 5.9 ounces
Height 1.78" closed, 4.75" open
Diameter 3.3"
Can be charged via a USB connection or by hand crank
Doubles as flashlight when closed
Ideal for backpackers
Very rugged
Run time is approx 10hrs
18 month warranty

Duronic Hurricane 4 in 1 Lantern

Flexible Charging Options: Hand-Crank, USB Cable, Or Wall via Adapter
Maximum light intensity 32Lm
Converts to a high-powered spotlight
AM/FM radio tuner
Emergency alarm siren
SOS strobe light
Several recharging options
Size: Height 7.5 inches Width 3.5 inches
Weight 1 pound
Ergonomically designed, multi positional handle

Kaito KA249W Hand Crank Lantern

Multi-functional solar / hand crank LED camping lantern
AM/FM NOAA weather radio
USB port for charging cell phone and other compatible portable device
Bult-in speaker and telescopic antenna
Product Dimensions: 3.5 x 3.5 x 7.8 inches
Very bright but no Lm given
Weight: 10.3 oz
Table of Contents:
What if you're stranded in a dark forest with no access to electricity? Or your power is out and you're in the middle of a powerful storm with no light, what then? Hand crank lanterns are just what you need to find your way through the dark. An emergency hand crank lantern will enable you to get around safely in the dark and makes sure no one gets lost on the way to safety.
No Power Source Necessary
One of the main reasons why you simply have to have a hand crank lantern is that you don't need an external source of power or a battery in order to power it.
The lamp uses a handle that you have to crank up to generate electricity. It essentially runs on muscle power, and you only need a few cranks to generate the necessary power to run it for a few minutes. The longer you crank it, the longer it'll work. The energy is typically stored in a capacitor or a high-powered lithium-ion battery with a capacity of more than 500 full charges.
A More Efficient Design
This point has more to do with the specific design of a hand crank lamp and less to do with the performance and convenience-related benefits of having a lamp that doesn't need batteries or other power sources.
Because of the unique gear-based mechanism that allows for efficient leveraging of muscle power, a hand crank charging device will typically provide an impressive 30-60 minutes of power after just one minute of cranking action. This makes them far more efficient than common dyno torch or shake flashlights. Moreover, some designs eliminate the electrical energy storage component entirely by using a spring-type mechanism for storing mechanical energy on a longer-term basis.
Multi-Function Devices
In many cases, hand crank lamp devices are built especially for survival situations. As a result, with some lamps, you not only get a great flashlight for your money but also a compass, USB charger, an FM radio, and other emergency equipment that could prove useful. Best of all, they're all hand crank-powered.
Long Term Performance
Because hand crank lanterns don't use regular batteries, they have an extremely long usable life span. You can keep using it for many years until the lithium-ion battery eventually dies, and lamps that store their energy in a capacitor will last until their components "die of old age" which is even longer.
Green Technology
The simplicity of the design and the fact that your hand crank lantern uses nothing but basic electronic components such as coils, capacitors, and magnets, implies that you have on your hand a piece of real, clean, Eco-friendly technology.
LED lamps that require disposable batteries require their old batteries to be replaced and discarded safely or recycled. Recycling batteries isn't always an option, and sooner or later the heavy metals and toxins contained in those batteries will find their way into the environment.
With a well-designed hand crank lamp, that will not be an issue, and you can keep using it for years to come without the need to replace any batteries or worry about any components that have to be discarded or that may cause environmental problems during their long term use.
Best Hand Crank Lantern Reviews
Goal Zero Lighthouse 600 Hand Crank Lantern
If you are a prepper, camping enthusiast, or survivalist, looking for an extremely bright, small, and lightweight lantern that can be recharged using any of a number of different ways, then the Goal Zero Lighthouse 600 is the lantern you are looking for!
The Goal Zero Lighthouse 600 utilizes Dualite directional lighting which offers 360° of bright LED light when both LED's are used and 180° when just the one is lit up, perfect when placed up against a wall. Power can also be conserved by lowering the intensity of the light with a dimmer switch.
When used in 360° mode and full intensity the Lighthouse 600 has an expected running time of around 12 hours. This can be lengthened to 48 hours by using the lantern on 180° mode and low-intensity lighting.
The Lighthouse 600 can be charged using all the usual methods via a USB connection but is most notably able to charged using the hand crank handle situated on the top of the lantern
Dimensions:
Height 6.5"
Height 9.5″ (when using legs)
Width 5″
Weight 1.1 lb
Our View:
This recent upgrade of the Goal Zero Lighthouse 400, has increased brightness from 400 to 600 lumens. It was already the best all-around performer at 400 lumens and is easily the hands-down best in class! Yes, it is more expensive than the other lanterns on this list but you pay for what you get… it's the best!


Back to Top
AGPtek 5 Mode Hand Crank Lantern
The AGPtek 5 Mode lantern is larger than most of the hand crank lanterns we have looked at and in our opinion is better suited as an emergency lantern for home use rather than for camping and certainly, backpacking, where size and weight are important.
The AGPtek is certainly one of the brightest hand crank lanterns we have looked at producing a bright 240 lumens when used in its most powerful mode.
This lantern can be charged multiple ways and can also run on disposable AA batteries if preferred and will provide 20 minutes of illumination after just 1 minute of hand cranking, which is quite impressive.
Once fully charged the AGPtek lantern will provide up to 20 hours of light.
Dimensions:
Height 10"
Width 4.5"
Weight 1.78 lb
Our View:
An excellent performer. Multiple methods of charging including a built-in solar panel. A little on the large size for camping but ideal for home preparedness. Excellent value for money.

Back to Top
ThorFire Camping Lantern
The Thorfire LED camping lantern is the perfect lantern for backpackers and hikers for whom size and weight are just as important as brightness.
Measuring just over 3″ across and 1.78″ deep when closed the Thorfire is small enough to fit in your pocket never mind finding room for it inside your backpack! It only weighs in at 5.35 ounces so it adds very little weight to a pack as well.
The Thorfire can pump out an amazingly bright 125Lm on its brightest setting although this is limited to only 40 minutes of running time.
The small size and reduced weight obviously come at a cost and that cost is the running time/battery life of the rechargeable batteries which will last from fully charged, approximately 4 hours on the lowest setting.
However, this is the beauty of having a hand crank charger on a lantern, simply recharge when needed!
Specs:
Size: Height 1.78" closed, 4.75" open – Diameter 3.3", Weight 5.35 ounces
Brightness: 30LM – 125LM
Run-time when fully charged: 4 hours
Our View:
The best all-around performer in the collapsible hand crank lantern class. There are many lookalikes out there but the Thorfire outperforms them all. Don't settle for a lamp that looks like a Thorfire when the real thing costs less than $20 and is far superior!


Back to Top
Duronic Hurricane Lantern
This well-liked LED lantern from Duronic is a very nice-looking and well-designed item of gear. Not only is this a great lantern but it also doubles as a great spotlight too.
The Duronic Hurricane Lantern features a high-powered spotlight and two brightness settings making it ideal for outdoor adventures, roadside emergencies, backpacking, and even backyard campouts.
This compact-sized lightweight lantern features a comfortable ergonomically shaped handle.
A convenient carry handle on the top of the lantern can be easily utilized and tucked back into place when not in use.
The Duronic Hurricane lantern also features an AM/FM radio tuner, an emergency alarm siren, and an SOS strobe light.
You can charge the lantern with a USB lead connected to your laptop, or from a regular wall power outlet with the help of an adapter that isn't supplied with the lantern. Although we haven't tested the running time of the lantern after a minute of using the crank handle we can tell you that it outlasts all the other lanterns in our tests, probably due to the lower power requirements to light the dimmer lantern
Specs:
Height- 7.5″
Width- 3.5″
Weight- 1pound
Our View:
This is an excellent lantern for the price. Looks and feels great too. The lantern may not be as bright as the others but the battery lasts a lot longer because of this which means you don't need to use the hand crank as much, or for as long.


Back to Top
Kaito KA249W Hand Crank Lantern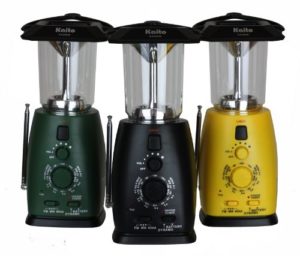 The Kaito KA249W camping lantern is one of the best crank lanterns on the market. It covers most features that are useful in both camping and emergency situations. The lantern's most readily apparent feature is, of course, light. It provides two levels of illumination by using an arrangement of eight LEDs.
Preppers will also be happy to note the wide range of radio coverage. It can access the AM/FM NOAA Weather bands without placing too much strain on the battery. It's equally obvious that this feature wasn't quickly tossed in either. The antenna is more versatile than the norm for lantern radios.
The antenna can extend to around the same length as the device itself. It's also flexible enough to properly position even in situations where one doesn't have much room to work with. The antenna is also retractable to what amounts to a small nub on the lantern's side. And of course, all of this can be easily powered through the use of a hand crank. Both the radio and lights use a small enough amount of power that it can easily work with the crank.
Other Features
But this is also where the extra features of the KA249W become more apparent. It also includes solar power input and USB output. This means that one can essentially use almost any other device with the system. For example, e-book readers use a very small amount of energy but can be extremely useful in emergencies. This matches up perfectly with the power storage and output of the KA249W. And under ideal conditions, the solar cell can even substitute for crank usage.
But even devices with higher power requirements can be used with it. The device can hold a fairly large charge so one simply needs to build it up before charging cellphones or the like through the USB port.
Specs:
Size: Height 8.25" (21 cm)
Width 4.5" (11.5cm)
Weight 10.3 oz (295 grams)
User Feedback:
The majority of users of the Kaito KA249W are pleased with the lantern stating that the light is bright and the radio very good. However, there are a number of things that were mentioned frequently by users that need to be considered before purchasing this lantern.
The most often mentioned being the cheap feel of the lantern, although many users correctly suggest that this is because the manufacturers have tried to keep the weight down to the minimum. A few users have complained about the short life of the 500 mAh battery which is about 2.5 hours with the light set to its brightest setting and the radio on also.
That being said the vast majority of users are very happy with the Kaito KA249W and although it's not the best emergency crank lantern, it is a pretty solid contender.
Our View:
Doesn't look great and feels quite flimsy when in hand but there is no disputing the Kaito KA249W is good value for money and irrespective of how it feels or looks it performs exceptionally well!

Back to Top
Best Hand Crank Lantern – Summary
The first thing you must bear in mind when considering buying a hand crank lantern is that primarily, what you will be getting is a light source that does not require any external power source to provide emergency lighting. A lantern may offer extras like converting for use as a flashlight, a small device charger, or an AM/FM radio but, at the end of the day, it is primarily an emergency lantern.
Secondly, it wouldn't be fair to compare the light produced by a hand-cranked lantern to that produced by a kerosene lantern, for example, it will never stand up to the comparison. If you want a lantern that emits a light strong enough to light up a good size room then a hand crank is probably not going to be your first option.
However, it is always wise to have a hand crank lantern of some shape or form because you can practically guarantee that you will run out of fuel or batteries leaving you with no means to power your lanterns, and then where would you be? Three little words… In the dark!
The post Best Hand Crank Lantern [2021] first appeared on Alpha Survivalist.