If you've had the chance to check out our Ultimate Survivalists guide to Ham Radio you'll know that amateur radio is great for emergency radio communication in a disaster, carrying around a bulky rig with you won't do much good. You need the best handheld ham radio for survival situations if you want to stay in touch without sacrificing portability.
You won't be sacrificing anything if you opt for a small handheld instead of a base station, either. With today's technology, even a small radio can take you a long way.
What Features do Handheld Ham Radios Offer?
Some experienced amateur radio operators call their handhelds a "shack on a belt" because they're so packed with features now. Most of these allow you to use the incredibly popular FM voice mode on either VHF or UHF frequencies. These frequencies are higher than, say, the AM band on your car radio so they don't have a lot of noise.
That limits their range somewhat, but it also helps to eliminate noise. Since handheld rigs often let you transmit on one frequency while listening on another, you can connect to land-based repeater stations or orbiting satellites to extend your range.
A majority offer a standard adapter jack, which let you attach a beefier antenna than they ship with. This is perfect for survivalists and outdoor types who need to stay in touch over long distances.
Perhaps most importantly, almost every FM-based handheld ham radio will let you use what are called simplex channels. Backcountry travelers often talk on 146.52 MHz, which is known as the national calling frequency because so many hams listen to it.
Multiband handhelds provide a whole menu of calling frequencies to pick from. This is great for those who want to participate in around the clock monitoring as part of the Wilderness Protocol network. Preppers have been continuously listening to these channels from coast to coast since way back in 1994.
---
How to Choose the Best Handheld Ham Radio for Survival
Look for power output when selecting a radio. Traditional GMRS and FRS radios are really weak. Ham radio gear can put out approximately 10 times as much power, which is why the FCC makes ham radio operators take a test to prove they're competent enough to work with this much gusto.
You want something powerful enough to let you get a signal out over a long distance without zapping your battery. Some units give you the freedom to dial power up to 5-10 watts and then back down again, which is a great feature to have.
Keep an eye out for anything that offers dual-band or multiband operation. This lets you communicate on more than one of the frequency bands granted to hams. Two meters (144-148 MHz) and 70 centimeters (420-450 MHz) are by far the most popular with survivalists.
Band plans are in place to divvy up different channels to various activities. Make sure you have a radio that lets you program these channels into an onboard memory slot. Channel memory is also useful if you plan on using repeater stations or satellites.
Other Features to Look For
Manufacturers are starting to cater to the survivalist market by packing more and more features into their radios. Consider looking for the following:
CTCSS & DCS encoders: Some repeater stations will ignore you if your radio doesn't send a special tone before you speak. This technology allows you to dial in a tone and send it automatically. Different repeaters call for different tones, but as long as you see these letters you should be good.
Scan button: One push of this button will look over a range of frequencies and stop when it finds someone transmitting. This can often scan police and fire department channels as well as ham ones.
Squelch: This handy control blocks out noise so you don't hear a constant buzzing coming out of your radio.
Weather alerts: A majority of radios that operate on the two meter band can also pick up NOAA's federally managed weather radio bulletins, which are great to have during an impending disaster.
DTMF Pad: This looks like a phone pad on the front of the radio, and allows you to access certain sophisticated repeater functions by dialing touchtone sounds right into your transmission. Some repeaters let you use it as an actual telephone in an emergency. It doubles as an easy way to enter frequencies into your radio's memory.
Which Handheld Ham Radio can You Legally Have?
Anyone can legally purchase and own any piece of ham radio equipment whether they're licensed or not. The problem comes when it's time to actually transmit. Manufacturers make an overwhelming majority of radios support frequencies above 50 MHz, which means anyone with a Technician license or better can operate them to their fullest extent.
What Kind of Battery do I Need?
You'll probably want a radio with a battery that holds at least 1,200 mAh of power. Look for something that uses either lithium ion or NiMH (nickel metal hydride) batteries, since other types have a tendency to die too quickly.
Some survivalists prefer traditional radios that take disposable alkaline batteries, but you're better off avoiding these power packs. You can juice up a rechargeable battery from a crank dynamo or a solar panel, which makes them just as portable.
Dropping your power output can save battery life regardless of what technology your radio uses.
---
Top Five Handheld Ham Radios for Survivalists
---
To help you narrow down your choices, we took a look at some of the best handheld ham radios for survival on the market today. Any of these are worthy of your consideration if you only plan on bringing a single rig with you into the field.
Yaesu VX-6R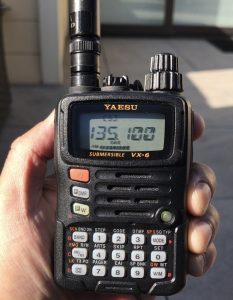 In some ways, the VX-6R is like a bigger sibling to the FT-60R (the next handheld on our list!), though they're very different radios. This rig adds support for the 1.25 meter band, which means you'll be able to find even more open channels in an emergency. Most importantly, it comes with an automatic power timeout to save your battery and a time-out timer that can save if you ever decide to butt dial your radio!
Yaesu packed in something that they call the Auto-Range Transponder System, which looks for other similarly-equipped ham operators and beeps whenever you get close to one. It's a great idea if you're wandering in the wilderness.
Pros:
Waterproof
Submersible up to a fairly deep level
Receives from less than 1 MHz all the way to nearly 1 GHz, so you won't miss anything
Comes with a wall charger and a fairly sturdy antenna
Automatically transmits your call sign and engages microphone even if you're disabled
Offers several different power options
Comes with a hefty lithium-ion battery
Channels store repeater tones and offsets
Sturdy reinforced designs
Cons:
Can be a little confusing for new users
Menu names don't always make sense
A bit hard to hold due to shape and weight
Quite a bit more expensive than many other options


---
Yaesu FT-60R Dual-Band Handheld
Yaesu is one of the more popular brands as far as ham radio equipment goes, and the reasons are pretty obvious why. This radio receives a huge range of frequencies from 700.00-999.99 MHz as well as 108-520 MHz, so you'll be able to hear everything from NOAA weather bulletins to aeronautical information with no problem.
Best of all, it comes with a handy DTMF pad on the front so you can change any option easily.
Pros:
Transmit on two meters (144-148 MHz) and on 70 cm (430-470 MHz)
Comes with 1,000 memory channels
Features three power output modes
Comes with a 1,400 mAh battery, a charger and a belt loop
I/O ports make it easy to attach an external microphone
Supports CTCSS codes
Cons:
Slightly less affordable than some options
Can't receive trunked transmissions
Antenna doesn't always come out easily


---
BTECH UV-5×3 Watt Tri-band Radio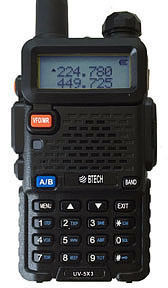 BTECH is a newer upstart company, which means the UV-5X3 isn't nearly as expensive as many other options. It works with a ton of accessories and includes some convenient jacks on the side to add in your own headset.
As well as a wrist strap and belt clip, it comes with an extra antenna to work with the 1.25 meter ham radio band, which this rig covers in addition to two meters and 70 cm. That gives you plenty of options when it comes to staying in touch in a disaster area.
Pros:
Works on three different brand
Features an excellent onboard scanner
Boasts a full DTMF pad with repeater codes
Compatible with many external antennas
Can hook up to a computer to program special frequencies
Comes with a charger and adapter
Responds to remote commands, so you could use it as a makeshift repeater in a pinch
Cons:
Case is somewhat flimsy
Buttons can be pried loose if you aren't careful
Battery doesn't have the best life


---
BaoFeng BF-F8HP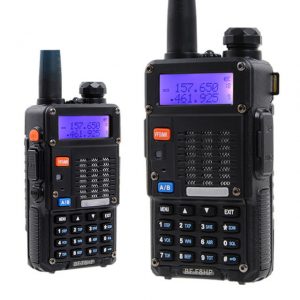 The first thing you'll notice about the BF-F8HP is the hardened shell, which can take a beating. It receives everything from 65-108 MHz and 400-520 MHz, so you'll even be able to listen to regular news broadcasts from commercial channels in a pinch.
While the company claims they wanted to make a beginner-ready radio, this little rig comes with plenty for even the most sophisticated operators to love.
Pros:
Relatively inexpensive
Three different power output options
Comes with a high-gain antenna to help you talk further
Upwards of 20 hours of battery life between charges
Powerful speaker can be heard far away
Dual-band split transmission options
Tri-color display makes it easy to distinguish different figures on screen
Cons:
Needs a special adapter cable if you want to program it with a PC
Instructions aren't comprehensive, so you'll need to figure things out on your own
Interferes with other radios if you use it too close to them
Power jack can be bent really easily


---
BTECH V1 GMRS
You normally don't see GMRS-capable radios that can receive all the way from 136.00-174.99 MHz and 400.00-520.99 MHz, but that fact makes this BTECH pretty useful for those looking for a handheld ham radio as well. It's rather inexpensive and has a simple button that lets you block out nuisance channels, so you don't have to hear transmissions you're not interested in.
Pros:
Lets you monitor two channels at once
Huge customizable tri-color display
Can send almost any kind of repeater tone
Connects to your PC to download frequency data
Features a full-sized DTMF pad
Large 1,800 mAh battery
Comes with a dual-band antenna and an earpiece kit
Cons:
Geared more toward GMRS frequencies, so it may not work for many hams
Has problems working with ham repeaters
Fixed power output
Doesn't come with all GMRS frequencies programmed into memory


---
Conclusion
Which is the Best Handheld Ham Radio for Survival?
As long as you don't mind paying a little more, the Yaesu VX-6R is the clear winner of this roundup. It offers a wider range of frequencies than any of the other rigs on this list. In fact, it outperforms many big desktop radios in that respect!
Even in an emergency, you should be able to find the stations you need with the helpful light-up number pad. It can even transmit for you if you're unable as well as locate other stations automatically. That's something that none of these other pieces of gear can even do.
Since it is waterproof, you shouldn't have any difficulty using it after a hurricane or when dealing with wrecked houses. The multiple power settings also make it more flexible than most of these radios and give you an extra chance to save your battery.
About its only major drawback is the fact that it's going to take you a while to learn to use properly. The smaller FT-60R has it beat in this respect. Otherwise, though, the VX-6R gives you the freedom to carry a lot of power with you in the field making it our undisputed choice as the best handheld ham radio for survival.