If you were to write a list of the most important items you need to have in your emergency preparedness bag a flashlight would be pretty high up on that list.
Obviously, all flashlights require a power source of some kind to function, which is absolutely fine if you have plenty of batteries or have a reliable power supply that you can access to recharge your flashlight whenever you need to.
But what happens when you have no batteries, or you have no access to a power supply?
Solar flashlights may well be the solution you are looking for.
Solar flashlights will provide you with the light you need without the hassle of having to find batteries or locating a power supply for recharging, as long as you have access to the sun, you're good to go.
We'll cover the refinements of how solar flashlights work and what makes
---
Some of the Best Solar Flashlights Currently Available
---
HybridLight Journey Solar Flashlight
The first time you lay eyes on the HybridLight Journey, it is hard to distinguish it from a regular LED flashlight.
Turning it around will show the solar panels on the top, and becomes the only distinguishable design trait that separates it from a regular flashlight.
The HybridLight Journey is not your typical solar product, and goes beyond the traditional methods of hand crank and battery power to give consumers a new way to harness energy.
The price is higher than some of the competitors, but what you get in return is one of the most advanced solar flashlights on the market. This is one purchase that keeps on giving, even after you have exhausted all of its features.
Key Features
The built-in solar panel is large and takes in a lot of energy at once. Alternate ways to charge including incandescent lighting or through a USB charger.
The battery is strong enough to charge-out to cell phones and small tablets when they are low on energy. Waterproof, and can take a serious beating.
Best Use Scenario
There is no denying that this is an 'all in one' product. Portable battery chargers with built in LED lights are plentiful, but the industry has few solar flashlights with strong built in rechargeable batteries.
The ruggedness and usefulness of this product is a survivalist's dream, right down to the design that makes it look like a regular flashlight.
Although this is geared towards intermediate to advanced users, there is no reason a beginner wouldn't want to use this as a main flashlight.
Even if it has features that you may not always use, there is no harm in having it handy in case it's needed.
Pros
Can be charged using incandescent lighting or through USB
Can charge small devices its strong built in rechargeable battery
Charge lasts for years instead of a few weeks like other devices
Solar panel is large enough to take in a lot of energy at once for quick charging
Floats on water!
Cons
For someone that wants a basic solar flashlight, the price may be too high

---
Thorfire Solar Flashlight with Hand Crank Backup Charger
Although we are looking at the Thorfire from a solar flashlight point of view it has to be said that the hand cranking mechanism is certainly one of the standout features of this product.
Right from the start, it markets itself as an energy saving and environmentally friendly product. Although that does apply to just about every solar flashlight in existence, there are some features of this particular product that works better in this dynamic.
This small and affordable solar flashlight is a good starter device for users that want to try out the technology. It won't blow you away with features, but there is enough there to make it a mainstay in your backpack or emergency kit bag.
Key Features
Easy hand crank generation that won't tire out users, particularly those with arthritis. Only takes one minute to get power for an hour of usage. Waterproof and can be submerged up to 45 feet. LED lightbulb with a lot of coverage in the darkness. Recognizable brand name with great customer service.
Best Use Scenario
First time buyers of a solar flashlight will get the most mileage out of this product. The features are geared towards users that don't need an advanced flashlight for daily usage.
The Thorfire Solar Flashlight is durable, and should last for many years without needing a replacement. Over time, you'll find that it makes a great backup flashlight after replacing it with a more advanced model.
There are three flashlight modes (mid/high/flash) but they are pretty standard in their usefulness. For the price the flashlight is offered at, it really makes sense to have at least one of these in your home or car.
Pros
Intuitive hand crank that doesn't require a lot of force
Provides just as much brightness as a regular LED flashlight
No batteries needed for the hour-long runtime
Small and compact enough to fit in your pocket
Great first-time solar flashlight
Solar panels on the side can also recharge the product
Cons
Missing a lot of advanced features of competing products

---
MECO Solar Flashlight with Hand Crank Backup Charger
The MECO Solar Flashlight is another small product that uses hand cranking as well as a solar panel as its main source of energy.
A big difference between this product and the Thorfire is the size. With the MECO Solar Flashlight, you are getting one of the smallest products of its kind.
Weighing only 3 ounces, it can fit in your front pocket and barely register more than the weight of a few keys. While this model is meant for adults, the smaller size also makes it useful for children that want to try out a solar flashlight for the first time.
It is the perfect candidate for the first-time user that is skeptical about using solar powered products.
Key Features
Has a size advantage of only being 4.92 x 1.77 inches in size. Carabiner clip secures the flashlight to your belt, shirt or backpack.
Only six minutes required for an hour of energy. Solar panels work with real or artificial light. Small size also helps with durability, with a high resistance to bumps, drops and regular use.
Best Use Scenario
Beginners and kids will get the most use out of this flashlight.
It is slightly underpowered to be a permanent choice or even a backup (compared to what Thorfire offers).
The small size means that it can be packed into an already full load without taking up any space. If you're intuitive enough, you can even create a lanyard for it so that it hangs around your neck. And if you want, then the MECO Solar Flashlight can clip right onto your keychain without looking too out of place.
The carabiner clip really helps out the many different scenarios in which this product can be useful.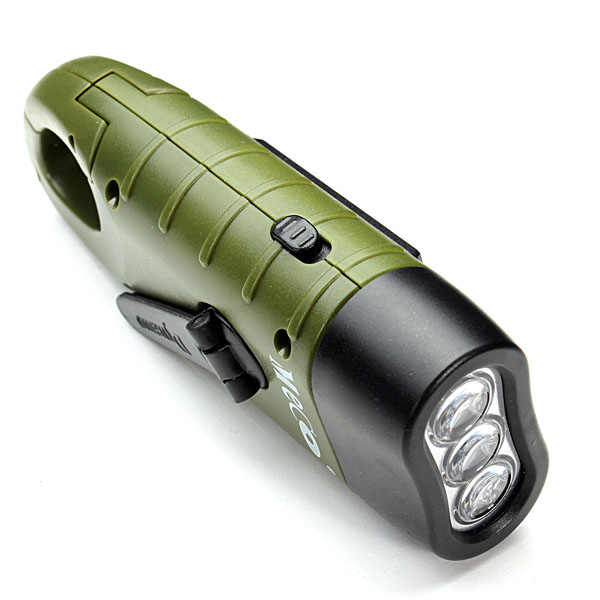 Pros
Small but efficient solar panel is useful in real or artificial light
Great for adults or kids that want a simple solar powered flashlight
Available in three different colors
Internal NiMH battery is high quality and will last for multiple years
Cons
The coverage of the LED light is only average when in complete darkness

---
NPET T09 Solar Flashlight
Heavy duty describes the NPET T09 Solar Flashlight, one of the best of its kind in the industry. Even with all of the advanced features, the price is just right for consumers.
There are more advanced versions of this model, including the T10 and T10-2 available for a higher price. But for a good balance of price and value, the T09 hits the sweet spot.
There are multiple flashlight modes to choose from, and each is bright enough to be useful in different levels of darkness.
Instead of being tacked on light features, there is a general usage pattern for each of the seven modes.
Like other modern flashlights, it combines a large USB powerbank with a wide solar panel on top.
The T09 is the complete package, from top to bottom.
Key Features
Multiple light modes including medium, high, flashing, side white lamp and side red light. Built in survival tools like a window breaker or seat belt cutter.
Attaches to metallic objects with a powerful built in magnet. A 2000mAh powerbank can store energy for months and charge small electronic devices.
Best Use Scenario
As an all in one flashlight, the T09 is great for intermediate or advanced users. The only downside is that some of the features may be redundant if you are a prepper or survivalist and have tools that are specifically designed to do the job.
There is also no hiding this bad boy – it is huge, and heavy. Not a lot of backpacks will be able to fit it, and it really isn't meant for that type of storage.
If you want to cut down on the number of tools you bring along, then the T09 is the perfect product.
The battery is one of the strongest of its kind, so forgetting to charge it shouldn't be an issue. While the solar panel is nice and works perfectly, the best and quickest way to charge is through USB. Without the USB option, you are looking at almost 30 hours before it gets fully charged.
Pros
Shock and water resistant
Durable enough to give as much punishment as it takes
LED light is so strong it can project upwards to 700 feet
Handy compass is built into the tail of the flashlight
Cons
Because of the large built in battery, it takes longer to charge up

---
Goal Zero Torch 250
It would be unfair to call the Goal Zero Torch 250 a simple solar flashlight. It is a lantern type, so maximizes a wide area of brightness instead of distance.
When you get past the obvious differences with the design, then you probably begin staring at the price. The Goal Zero Torch 250 is one of the most expensive of its type, but there is a reason.
It remains one of the most reliable solar flashlights available, even after years of ownership. On top of its great durability, the light remains consistent, and will remain as bright as when it was first purchased.
If consistency matters, there are not a lot of products that can compete with the Goal Zero Torch 250.
Key Features
Solar, hand crank and USB charging options. Up to 250 lumens total, with multiple modes to take advantage of the brightness.
A 4400mAh rated battery is strong enough to charge any phone or tablet. Total run time when charged can last up to an incredible 2 days total.
Best Use Scenario
This particular solar flashlight is great for all levels, as the advanced features are useful without being a burden.
If you have a strong preference for distance with your LED, then the Goal Zero Torch 250 will probably look a little overpriced for your needs.
The product is strong, has great utility functions and an incredible battery. But its strengths are going to be the 'wide area of effect' for the lantern light and the long-lasting battery. Users that don't care about those features and want a traditional flashlight will need to look elsewhere.
Pros
Has three different options to charge the battery (crank, solar, USB)
Red light feature for emergencies
Heavy duty battery can handle even the most power hungry of devices
Flashlight option available as one of the modes if you favor distance
Cons
Flashlight option is good, but is about average compared to the other features

---
SECUR Dynamo 8 Lumen Solar Flashlight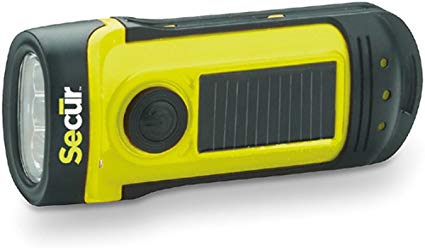 With the SECUR Dynamo, buyers get a solar flashlight that keeps things simple. It doesn't do anything too out of the ordinary, yet works great as a main flashlight or a backup.
The price is good, and the hand crank won't hurt your hands.
Upon closer inspection, you'll find that the real strength of this flashlight is how it handles in extreme weather conditions.
It's small, durable, and the light stays strong when the weather is at its worst.
The SECUR Dynamo is big enough to light distance, but small enough to fit into the palm of your hands.
Key Features
Waterproof up to 45 feet. Flashing mode with the option to operate one or three LED's to save power. Dynamo generator requires less cranking to fill up the 80mAh battery.
Yellow design makes it easier to find in complete darkness. Only weighs 6.4 ounces with dimensions of 6 x 2.5 x 1.75 inches.
Best Use Scenario
Beginners and intermediates will get the most out of this flashlight, although the latter will probably use it as a backup.
The SECUR Dynamo is a great product, it just doesn't have a killer feature like some of the other flashlights listed here.
With a bright color and its great usefulness in bad weather conditions, it is the perfect companion if your main flashlight is out. And since it has intuitive power saving features, you can adjust the brightness to save energy.
If you've had experience with the brand, then the great customer service may be what pushes this as a top purchase over a similar product. But considering its great durability, it's unlikely you'll have to contact support about a hardware issue.
Pros
Has a battery capacity of up to 50,000 hours before you start to see any type of charge degradation
An hour of sunlight gives you 120 minutes of battery power
Strong LED light that has easy to use power saving features
Cons
Not a true standout compared to some of the other flashlights in its price range.

---
How Does a Solar Flashlight Work?
Solar flashlights use mini in-built solar panels (photovoltaic cells) to capture the energy produced by the sun's rays. This energy is stored in a rechargeable battery cell which provides the power to light up the flashlight whenever needed.
The types of bulb used in the flashlight can vary, but more often than not they are LED's, generally because LED's; produce brighter light which can also be directed better, last much longer than other bulbs, and use much less energy.
---
Points to Consider when Buying a Solar Flashlight
As with any other piece of emergency equipment you buy, your intended use will dictate which solar flashlight is the best for you. You'll find no benefit in buying the top of the range, all singing and all dancing flashlight when it doesn't tick all the boxes you need it to tick.
Outdoor or Indoor Use
If the solar flashlight is intended for use outdoors then you'll need one that prioritises durability. As well as being tough it would be necessary for the flashlight to be waterproof, or at the very least water resistant.
It is also a good idea to look for a flashlight that uses other charging methods as a backup to solar; flashlights that offer additional hand crank charging are a particularly good choice.
A flashlight that also offers additional benefits such as having a built-in compass for example, may seem a little gimmicky, but as long as the additions don't increase the weight of the flashlight there's no real reason to dismiss them.
A solar flashlight for use indoors may seem a strange choice but as long as the flashlight can be charged using other means as well as solar, say with a USB connection, and it holds that charge for a long time then they are a great choice.
Who knows when the power will cut out?
Leaving a flashlight on a sunny window sill all day when you have no power to the house will ensure you have an emergency light source when it gets dark.
Being lightweight and smaller isn't so important for an indoor flashlight nor is being waterproof so a more basic solar flashlight might well be the better choice.
Portability
It may seem an odd one to start with as you would expect any flashlight to be portable but weight, size, and grip are all important factors to consider.
If you want a solar flashlight that will be used infrequently, perhaps during a power outage then it won't matter too much about the size and weight etc. However, if you want to stow your flashlight in your emergency bug out bag or EDC bag, or you intend to use it a lot, then a smaller, lighter flashlight has got to be a box that needs ticking.
If you are going to be using your solar powered flashlight a lot then the grip and how it feels in your hand are also important factors to consider.
Brightness
There are some seriously bright flashlights out there but being too bright can be as bad as not producing enough light in some cases. Generally speaking a flashlight that produces light within the range of 100 to 150 lumens is the perfect choice for general use or camping and hiking.
Control
Most flashlights have a simple single handed on/off button or switch, however some also have brightness settings (ideal for saving power) or spotlight/floodlight settings. You should decide which features are important to you.
Charge Duration
It goes without saying that the longer a solar flashlight can operate before needing to be recharged the better. Equally important is the length of time it takes for a flashlight to reach a full charge. Both of these factors are extremely important in any decision making process.
Alternative Charging Methods
Solar flashlights are a great idea, but even the best ideas need a backup plan! In the case of solar flashlights the best backup charging methods are:
USB charging which does require some other form of power supply to take charge from. This could be a power bank or mains power supply if available.
Hand crank charging which is a self powering option, perfect for when your flashlight unexpectedly runs out of charge when it is dark or when there is little strong sunlight.


---
Final thoughts…
Although often looked upon as being more novelty than essential by some people the best solar flashlights have proven themselves to be a worthy addition to emergency kits time and again.
In all fairness, a solar flashlight will never achieve the same intensity of light that the best battery powered EDC or tactical flashlights can provide, but when you have no means of powering either of those types of flashlight, a solar powered could very well be a lifesaver!
Even if you have a tactical flashlight powered by 'kick ass' lithium batteries as your primary choice, a solar flashlight ready to use as a backup is still a pretty smart move!