Kaito KA500 Voyager Review
The Kaito brand is a leading player in the manufacture of emergency radios for both the domestic and professional markets, and was the first company to incorporate a solar panel into an emergency weather radio.
Their emergency radios are held in high esteem and the company became a government supplier in 2003, so it should come as no surprise that the Kaito KA500 voyager is another quality addition to their superb line of hand crank emergency weather radios.
Featuring a pretty cool design and multiple different functions, the Kaito KA500 has everything needed to be a versatile and extremely useful emergency radio, especially in a SHTF situation, but it is also at home when used as a normal radio on camping and hiking trips, but still able to offer those vital extras in case they're ever needed.
The Voyager isn't just pleasing on the eye either, the Kaito KA500 is also a tough little cookie too, able to withstand the majority of knocks and drops that come with being a outdoorsy piece of equipment.
This sturdiness is thanks mainly to an outer casing that is strong and rubberized. As with many of the radios reviewed here on Alpha Survivalist, and as sturdy as it may be, the KA500 is not built to conform to industry drop test standards.
The following review of the Kaito KA500 Voyager is based on the reviews and feedback of actual users.
What's the Kaito KA500 Voyager Got Going On?
Power Options:
The radio comes with a built-in rechargeable battery (NiMH) which can be charged using 5 methods.
As you are no doubt aware, the Kaito KA500 Voyager has been included on our list of 'best hand crank emergency weather radios', because it has the functionality of hand crank power generation incorporated into it, so we will start by looking into at how well it performs as a manually powered emergency radio.
Not too bad really, for one minute of cranking (120rpm) the radio will work for 10 to 15 minutes depending on usage, which, although it may not be the best performing radio, it is certainly a long way short from being the worst.
As mentioned previously, all Kaito emergency radios have been fitted with a solar panel since 2000 and the KA500 Voyager is no exception to this standard.
The solar panel sits in a storage slot to the rear of the radio until required and when opened can be tilted through 180 degrees to ensure solar power can be captured at its optimum strength.
The solar option can be used to power the radio directly or to charge the batteries when the radio is switched off
Unfortunately the Voyager doesn't come supplied with an AC adapter so we would advise you to purchase one. AC charging is by far the quickest method of charging your batteries so you might as well utilize the hell out of it until the power goes off!
You can also charge your KA500 using a USB connection attached to your PC or laptop, again only useful if your power is on or you have spare charge in your laptop batteries.
Although the radio does come with built-in rechargeable batteries there is also the option to use three AA batteries to power the Voyager.
Whichever option you choose to power/recharge your radio, you should also note that there is a small led light that will let you know when the internal batteries are fully charged.
How Well Does the Radio Work?
The Kaito KA500 Voyager is able to receive multiple channels and short wave frequencies as well as all 7 of the NOAA weather bands. There is also an extendable telescopic antenna which is secured inside the casing when collapsed which will greatly improve reception when used.
Here are the frequency ranges the Kaito KA500 Voyager can access:
AM – 520-1717 KHz
FM – 88.00- 108.00 MHz
SW1 – 3.20-9.00KHz
SW2 – 9.00- 22.00KHz
All 7 NOAA weather bands
Performance: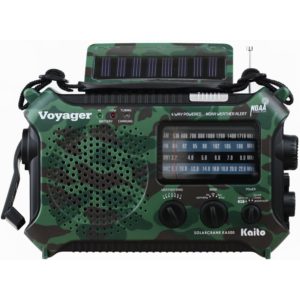 Users report varying levels of radio performance with the vast majority seeming happy with signal strength and sound quality. As with all radio performance tests, a lot will depend upon location and atmospheric conditions.
A few users, particularly those who live in rural areas for whom FM reception is important, complained about poor FM reception from stations as close as 70 miles.
With regards to sound quality, although the 3 inch 7W full range speaker seemed clear enough for most users to be happy, there were more than one or two who suggested that they could hear the radio much more clearly by using headphones/earphones plugged into the 3.5mm headphone socket.
The Voyager also has a flashing red LED located on the front of the radio, which warns you of incoming NOAA alerts.
You can also set the radio to NOAA and select your region then put it on standby and the radio will automatically come on when an alert is sounded, which is a cool option but does tend to drain your battery charge!
The biggest let down for some users is that tuning is manual and the display is analog rather than digital. All is not lost though as Kaito have picked up on this issue and the Kaito KA600 version has replaced the analogue with digital tuning.
What Other Features Does the Kaito KA500 Voyager have to Offer?
Every hand crank radio on our list has extras or a unique selling point, and the Voyager is no different.
As well as it's multiple charging options and NOAA alerts, the Voyager emergency radio offers a 5 LED flashlight, a flashing red S.O.S beacon light, an ambient LED setting for reading and the ability to charge phones.
The Voyager is available in 5 different colors; black, yellow, green, blue, and red – and is also available in camouflage pattern.
If you are going to try and charge your phone using either the solar power or the hand crank mechanism expect it to take some considerable time, as only a very small percentage of charge will be transferred to the phone.
Dimensions:
Width – 8 inches (20.3 cm)
Height – 5 inches (12.7 cm)
Depth – 2.6 inches (6.6 cm)
Weight – 1lb 8oz (0.68 kg)
Pros:
Small, light and portable
NOAA facility
Weather resistant
5 methods of charging
Choice of 5 colors as well as Camouflage
Rubberized and knock resistant
LED Flashlight and reading light
Flashing red LED SOS light
Cons:
Very short battery life
No AC adapter included
poor FM signal strength experienced in some locations
Hand crank seems a bit lightweight and flimsy
Battery cover/door breaks too easily.
Not provided with a protective carry case
Conclusion?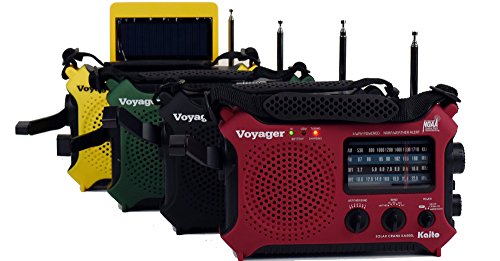 Due to the extras and features that the Kaito KA500 Voyager has to offer, it should come as no surprise that it is highly rated by Alpha Survivalist.
The radio functions well and it is reasonably robust, users experience very few issues, and it is great value for money.
Unfortunately, comments made by users of the KA500 about the seemingly weak hand crank mechanism cannot be ignored and the fact that our list is comprised of the best hand crank radios currently available leaves us with something of a dilemma; should we add it to our list or not?
The fact that the Kaito KA500 Voyager is one of the best selling hand cranked radios on Amazon and that it has received comparatively few negative user experience comments, is proof in our eyes that it is a good radio and therefore worth a place on our list.
It's popularity also highlights the fact that the KA500 falls within the right price range for the majority of people who want an extremely reliable emergency radio but who also want really good value for money.
Our View
A very well priced hand crank emergency radio, though the flimsiness of the hand crank mechanism should be cause for concern and it doesn't have a digital tuner or display!