Updated February 2021 – This LifeStraw Review will provide you with all the information you need about this lifesaving water filtration device.
Lifestraw Review – Overview
If you are looking for a high-quality survival water filter for your emergency gear.
Or you need one for your next hiking trip.
Then the LifeStraw Personal Water Filter would be one of the best options of those currently available.
In this Lifestraw review, we'll explain why that is the case.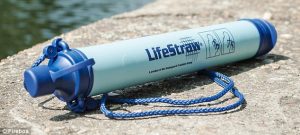 The LifeStraw is a simple, lightweight, and compact water filter.
It can purify water without moving parts, batteries, or chemicals.
It has the capacity to filter 10,000 liters of water during its lifespan.
The LifeStraw will filter out unwanted debris and particulate effectively.
You will never experience any pieces of vegetation or grains of dirt in the water you filter.
In other words, this filter will deliver highly effective results when compared to UV light treatments.
UV Light treatments are ineffective at removing those types of particulates.
User Friendliness of the Lifestraw
One of the main concerns for people when looking for a survival water filter is user-friendliness.
With the LifeStraw, user-friendliness is certainly one of the most main reasons behind its popularity.
It's as easy as dipping this water filter into water and then drinking from the top.
The simplicity of the straw-style filter puts to bed any frustration that could come with more complex filtration systems.
However, it is important to remember that using the LifeStraw is not exactly the same as drinking water through a regular straw.
Unlike a regular straw, you will initially experience a slight delay in receiving water.
This is because the water has to go through the filtering system before reaching your mouth.
However, once the filtration system has been primed, you will not experience any delays.
Effectiveness in Filtering Water
The LifeStraw will filter out protozoa and bacteria in an effective manner, 99.99% effective in fact!
As a result of this superb filtration, you will be able to avoid contracting a large number of illnesses.
Illnesses that are regularly transmitted through the consumption of contaminated or dirty water.
The hollow fiber membrane, that you would find inside the filter if you were to open it up, is responsible for delivering these excellent results.
For this reason alone, the LifeStraw can be considered to be one of the most effective survival straws available for backpackers and emergency preppers.
As mentioned previously, the LifeStraw can be used to filter about 10,000 liters of water.
So when you balance that against the actual cost of a Lifestraw, you will soon realize that you are getting a product that is worth every penny!
Because the LifeStraw is a very simply designed product there is very little, if anything, that can go wrong with it.
If the filter should ever stop working, you can easily troubleshoot it yourself.
You simply need to suck and then blow out and it will quickly clear any obstruction or blockage.
Water Treatment Capacity of the Lifestraw
One of the biggest drawbacks with the LifeStraw is that it isn't possible to filter out water and transfer it into another container.
As such it should only be considered for individual use.
In other words, it is only possible for you to use it to drink water directly from the source.
You can of course carry a bottle of unfiltered water while you are backpacking.
And then simply filter it with the LifeStraw when you need to drink.
We would say that the LifeStraw can be considered an ideal solution for backpackers.
Backpackers often find themselves running out of water whilst out trekking.
Lifestraw ensures they can safely drink whatever water they find whilst out on the trail.

How Long Do You Have to Wait Before You Drink?
As mentioned earlier, the LifeStraw is basically a straw with an extremely efficient filter in it.
Therefore, drinking water with it would be instantaneous.
You won't need to wait whilst waiting for chemicals to purify the water, or whilst pumping like with other filtration units.
In fact, you should only ever experience a delay of few seconds when initially starting to use the LifeStraw while the filter is primed.
Portability
Since this water filter has been designed with backpackers in mind, you don't need to worry too much about its portability.
It only weighs 2.7 ounces so it can be considered to be one of the lightest water filtering systems available.
The filter has compact dimensions and will easily fit into your backpack.
Do not let the fact that the LifeStraw is both a lightweight and compact product fool you.
It is well made and deceptively strong and is one of the most durable water filters around.
When can you use the LifeStraw?
In a word, anytime!
The LifeStraw is suitable for all situations.
From hiking and backpacking to an emergency water filter to store in your bug-out bag.
It is ready for any SHTF-type situation and is an insurance policy when traveling overseas.
The quality of the local drinking water in foreign parts is often questionable!
However, it is important to stress that the LifeStraw is designed for single-person use.
So if there is more than one person in your group then ensure they have their own LifeStraw.
Alternatively, invest in the family version LifeStraw that has been designed to provide filtered water in larger volumes.
It is more of a pump filter than a straw filter, but equally efficient.
We have already mentioned how little the Lifestraw weighs but it can also lessen the weight of your load.
By reducing the amount of water you need to carry, your backpack will be much lighter.
Although care must be taken when planning if you intend to travel with less water and rely on a Lifestraw.
Trekking around a desert with less water and a LifeStraw might not be the best plan you ever devise!
Lifestraw – Q&A's
Does Lifestraw work on saltwater?
No. Lifestraw will not work to remove salt from water.
Making saline or brackish water potable requires distillation or a process called reverse osmosis.
We will be posting an article very soon about how to desalinate water.
Where can you buy Lifestraw water filters?
You can pick up Lifestraw filters at most camping and hiking stores.
However, you will probably pay considerably less if you buy the Lifestraw here.
How much water can a Lifestraw filter?
The amount of water that can be filtered through the Lifestraw before you need to renew is 10,000 liters.
We suspect this volume would decrease considerably if you were filtering extremely dirty water on a regular basis.
Does Lifestraw make water taste good?
People have stated that the water filtered through a Lifestraw retains some of the taste of the source in their opinion.
Others disagree and state that there was no noticeable taste.
We definitely think it depends on the user's sense of taste.
Remember, the Lifestraw is a survival tool.
Medicine doesn't always taste good, but it is necessary!
What would be the investment?
The LifeStraw is definitely one of the most affordable personal water filters on the market priced at under $20.
If you take a look at many of the other water filters currently available, you would quickly realize that many, if not all of them, cost more than the Lifestraw.
That isn't implying that they are all overpriced, far from it.
Some are designed to filter out viruses as well as bacteria, some filter greater quantities, and some offer water storage too.
It really depends upon what your needs are.
You shouldn't let the low price fool you though.
The quality and effectiveness of the LifeStraw are never compromised.
In other words, you get a lot of bang for your buck with the LifeStraw.
Never forget that it will be $20 well spent when it helps to keep you alive.
Lifestraw Review – Final Words
If you are considering getting hold of a compact water filter for your personal use, for whatever reason, then look no further than the LifeStraw.
It is the best option for both price and effectiveness, as highlighted by the popularity of this best-selling personal water filter.
The LifeStraw has received many plaudits, and for good reason.
It works, it's simple to use, it's effective, it's compact, it's durable, it's lightweight, and it doesn't cost an arm and a leg!
The Lifestraw can save lives; period!
Check out the price and availability of the Lifestraw on Amazon by clicking the button below!