Neck knives have always been something of a quandary for even the most ardent of preppers and survivalists over the years. The question that divides opinion is normally whether a neck knife is a worthwhile addition to survival kit, or is it yet another novelty survival item that can definitely be done without?
Our view on the neck knife is that it should never be considered a primary choice when it comes to choosing a survival knife.
If you are thinking of using a neck knife as your main survival or self-defense knife, then think again, they're really not up to the long term task. If you want a main knife for survival purposes then a high quality fixed blade survival knife is 100% what you should be looking to buy.
However, that isn't to say that a neck knife isn't worth having.
There will always be an advantage to be had in having a knife that is small, lightweight, and can be easily concealed under a shirt.
The bottom line is that the neck knife should be considered as a last resort self defense weapon which can be highly effective in the hands of someone who is skilled in using it.
So if you're eager to learn a little more about these fearsome little knives then read on…
---
The Importance of Adding a Good Neck Knife to Your Survival Kit
---
What Is a Neck Knife?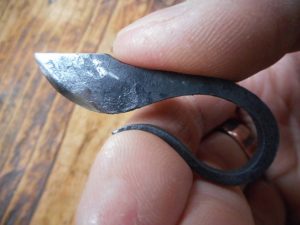 For thousands of years, people have been trying to find the ideal way to carry a knife without hurting themselves and with the added benefit of maximizing the time required to pull it out and use it. While many knife designs have come and gone throughout the centuries, the neck knife remains to this day one of the most practical and well thought out designs you can find.
But what is a neck knife anyway? Simply put, any type of tactical knife that comes with a cord or string that goes around your neck is called a neck knife. It can be anything from short-bladed Tanto blades to long combat knives. As long as they can be worn around your neck, they are neck knives.
This practical design is thought to date back to the stone age, when it was a real challenge for hunters to wear a sharp blade without stabbing themselves. Today, neck knives come in all shapes and sizes, and while some are still purely functional, others are mostly for show.
Why Do You Need a Neck Knife?
The practical quality of a neck knife's design cannot be emphasized enough. Aside from the fact that, being worn around your neck eliminates the need for any type of belt or tactical backpack required for storing it, the knife is available for easy access any time you need it.
If you're in a crisis situation, sometimes that split moment needed to pull your knife out can count a lot. With a good neck knife, you won't need that moment. You'll be ready for action in no time.
Another important benefit is intimidation. When you're in a SHTF type situation where people are trying to find resources and some are even willing to attack you for yours, wearing a neck knife sends a clear message: 'I'm armed and dangerous. Don't try anything funny!'
Since a lot of people that you can consider a real threat will only attack when they perceive their opponent as weak, most will leave you alone when they see an awesome looking weapon hanging around your neck. So that means in many cases, an intimidating neck knife can even help you win battles without even fighting them.
Finally, neck knives are portable, lightweight, easy to carry and very handy if you want to attract attention. There's no better way to let other people know you mean business than by carrying a cool neck knife, especially if you know how to use it properly.
The best thing about a neck knife is that there's almost no limit to the type of knife you can wear around your neck. While some designs might be too heavy or long to wear in a practical way, everything from curved, serrated and drop point blades to various multi-purpose tool knives can be worn as neck knives.
Basically, if you're serious about putting together an awesome survival kit, the neck knife is one survival tool that you will not want to miss out on.
Neck Knife Buyer Guide: A Look at Choosing the Best Neck Knives
Making Your Selection
Before you think of buying a neck knife, it's very important to think of the right criteria for making your choice. Although it's not overly important all the time, choosing your knife based on the best brands that manufacture neck knives can be a good place to start. Some brands are known for their superior craftsmanship, so it's best not to ignore their high quality products, before you select a product.
The next step, after finding all the most relevant brands, is to make a list of the most popular and well-regarded products made by them. For that purpose, look up the name brand and their neck knives on review sites and large retail websites like Amazon, where there is an accurate rating system and lots of people review what they buy. Although you can't believe all the reviews you find there, they will provide you with an accurate enough guide to at least help you decide on which products to narrow your search down to.
You'll also have to consider your budget. Even if the knife you find is in high regard and made by the most popular manufacturing company you can find, it won't help you much if the price goes above your budget. In that case, it's best to first establish your budget range and filter out any of the neck knives that are too expensive, before you make your final selection.
Your Choice Based on Neck Knife Features
The features of the ideal neck knife you might be looking for are also very essential when making your choice on buying a weapon of considerable quality and good proportions:
Compare what you need your new knife for with the intended use of the neck knives you find. The size, grip and sharpness should fit the use that you have in mind for it.
Make sure the knife you buy has a stainless steel blade. The material the handle is made from can vary, but it's important to also check to see that the blade goes deep enough into the handle so it won't snap while being used in a crisis situation.
Get a neck knife that features a strong sheath and chain, so it won't easily fall out or be ripped away if an assailant gets to it. The sheath should also have an especially secure construction, so that you won't run the risk of injuring yourself with the blade.
Legality and Other Issues
When buying a weapon such as a neck knife, it's very important to consider whether it is legal in your area or not. In some parts of the world, certain types of weapons are banned, even though others can be used freely for self-defense. So make sure you research the laws that apply to your specific areas, before you think of buying a neck knife.
Other alternatives to neck knives are also viable, and you can always buy a simple combat knife along with a belt or backpack that can house it. However, it's important to remember that neck knives are highly practical. There are very few other weapons that can be kept at the ready as practically and conveniently as a neck knife, so you can use it in an extremely efficient way in survival and self-defense situations, even against a larger or more capable opponent.
---
Best Neck Knives – Our Top 5 Selection
---
Spyderco ARK Neck Knife
The always ready fixed blade of the Spyderco Ark is a reliable choice. Thanks to an ingenious design, the length isn't sacrificed despite its size. The neck sheath is world class, and is one of the better choices for all day wear. It is one of the more affordable knives in this tier, and well worth it even if you own a different neck knife.
The Spyderco Ark is a great utility neck knife but might not be the best for quick reactionary defense. When you're going for a run, this is the perfect size that won't get in your way. The only time the knife will give you issues is if you have large hands and need to unsheathe it quickly.
Key Features
Sharpened blade with no serrations/Hollow grind/FRN handle made of fiberglass reinforced nylon
Pros
• Only weighs 2.0 ounces
• 4.98-inch overall length with a blade length of 2.5 inches
• Strong cutting power
• Relatable price
Cons
• Handle may not be the best for someone with large hands
For more information about the Spyderco ARK including the latest price simply click on the button!


CRKT Minimalist Bowie Neck Knife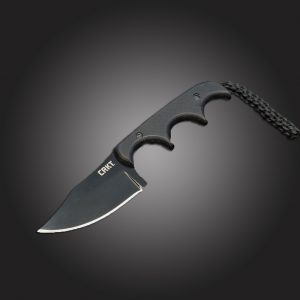 Compact and unique, the CRKT Minimalist Bowie will turn a lot of heads when it is unleashed. This is just one of the many available styles offered by this particular neck knife. Other styles include the drop point, keramin, tanto and the wharncliffe. The Bowie stands out from the rest in this group by keeping the compact nature of a neck knife but having the power of a larger knife.
Alan Folts was the designer of the bowie, so you already know the ergonomics and design are on point. The CRKT Minimalist Bowie is simple, and is made for anything that needs to be cut. For personal or professional use, it is a great all-around neck knife that won't let you down in a pinch. Paired with a high-quality sheath, this is a nice choice for the price it is offered at.
Key Features
Bead blast blade finish/Limited lifetime warranty/Glass-reinforced nylon sheath/Multiple blade types
Pros
• 2.125-inch blade length
• Weighs 1.6 ounces with a sheath weight of 0.5 ounces
• Tough steel that is made to cut through things like butter
• Polished resin infused fiber handle
• Grip type is perfect for all hand types, large and small
Cons
• Sheath may not be the best after a few years use
For more information about the CRKT Minimalist Bowie including the latest price simply click on the button!


---
Ka-Bar BK11 Becker Necker Neck Knife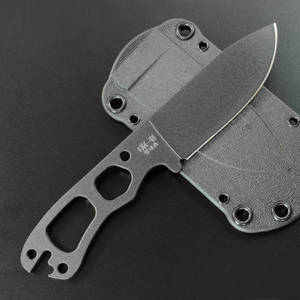 This is probably one of the most basic neck knives you will ever use. That isn't meant as a con, and is actually a selling point of this particular model. Anyone that has gone hunting is already familiar with the materials and style used for the Ka-Bar BK11 Becker Necker. They took all of the great features of a hunting knife and packed it into a miniature sized neck knife. Granted, a lot of the power is gone with this new size. But what it loses in power it makes up for with convenience.
The familiarity of the materials is helpful for users that want reliability in a pinch. You can use this neck knife for years and not have to worry about securing its replacement. That type of durability is rare in a product this small, and easily makes it one of the top features and pros for this product.
Key Features
1095 Cro-Van steel/New BK&T KA-BAR stamps/Glass filled nylon sheath

Pros
• One of the most durable neck knives in the industry
• Used by military service personnel
• 15-degree edge angle
• 6 ¾ inches in length
• Weighs only 0.15 pounds
Cons
• Average in the comfort category when holding for extended periods of time
For more information about the Ka-Bar BK11 Becker Necker including the latest price simply click on the button!


---
ESEE Izula II Neck Knife
The first thing a buyer will notice about the ESEE Izula II is the price. It is on the high end, but for good reason. This model has been chosen by several professionals as outstanding in its class. The main thing that all users can agree on is that the ESEE Izula II can take a ton of abuse. If you do minor maintenance, then the blade will always be sharp and at the ready.
Packed into this all in one great design is a fantastic handle and stylish blade. The two compliment each other nicely, right down to the satisfying sound of being removed from the sheath. What looks like a heavy duty pocket knife is actually a very light product when held. To keep the knife in the best condition possible, users should refer to the instruction manual. The ESEE Izula II is made to last for a long time, but only if the user takes care of it.
Key Features
Tan Micarta removable handle/1095 Carbon Steel/Available in three styles (DT/OD/B)
Pros
• 6.75-inch overall length with 2.63-inch blade length
• World class handle
• Weighs 3.2 ounces
• Not proprietary, but the removable handle is very well done
Cons
• Blade requires love and care to remain rust-free
For more information about the ESEE Izula II including the latest price simply click on the button!


---
Cold Steel Secret Edge Neck Knife
The Cold Steel Secret Edge Knife is a name that sticks with you. Besides being one of the coolest names for a neck knife, it is also one of the most unique designs. In name and in materials, this model is different than a lot of the other knives of the same size. The quality remains the same, but consumers get a product that could very well be better than anything they ever purchased.
Hyperbole aside, the selling point for this model is the size, weight and concealment. Despite being miniature, it handles great for all hand types. It is one of those neck knives that don't get in your way when moving around. When you actually need to use it, the Cold Steel Secret Edge Knife slides satisfyingly out of the sheath with a single motion. This makes it great for defense, utility and any task that requires quick reactions. Cold Steel makes great knives, so this is just another one to add to their long list.
Key Features
AUS 8A steel/Secure ex/sheath/2.5mm blade thickness
Pros
• 3-inch handle length and 3 ½ inch blade length
• Weighs 2.4 ounces
• Low priced
• Has some good power behind cuts
Cons
• Despite the incredible overall knife quality, the edge is average
For more information about the Cold Steel Secret Edge including the latest price simply click on the button!


---
The Last Word…
A good quality neck knife can be a real life saver in certain situations, that fact is inescapable.For that reason alone, a neck knife is definitely a worthwhile addition to your survival gear as a 'get you out of the shit' knife.
However, if you're considering using a neck knife as your primary survival knife then you've not really thought it through – a neck knife will not cut it, no pun intended,
There are hundreds of quality neck knives from which to choose. Some are basically miniature survival knives whilst others are designed for specific purposes such as self defense, whichever design you decide upon, always opt for a well respected brand name that way you will ensure you get a quality knife.
Knife brands you should consider are: Spyderco
, Columbia River Knife &Tool (CRKT)
, Ka-Bar
, Cold Steel
, ESEE
, Schrade
, Gerber
, Benchmade
, Morakniv
, SOG
, Fallkniven
, and Kershaw
.