Updated: December 2020
The question of which is the best MRE is a question that could be answered in one of two ways, but first for those new to the world of survival rations.
What does MRE stand for?
MRE is an acronym that many in the military know well but not one that the average Joe public will necessarily be fully aware of.
MRE stands for Meal, Ready-to-Eat, and they are the standard self contained field rations provided for the US military.
An MRE is something that, for those who have served in the military, will either rekindle fond memories or, as is more often the case, has given them a new found love of fresh food!
Now, although military rations have been around in one guise or another for quite some time, MRE's are still pretty new, relatively speaking, having been introduced as the standard issue ration in 1986.
Back then there were only a limited 12 entrées (main meals to me and you!) but over the years they have been developed and improved upon to the point where there are now 24 different menus.
That's enough of the history lesson; if you're really that interested you can check out a very detailed history of MRE over at Wikipedia.
Why would you need a MRE?
There's no escaping it, food will be one of your most important basic survival needs, irrespective of whatever type of SHTF situation you find yourself in.
Whether your stomach agrees with you or not, food is further down the list of importance than both finding shelter and water when it comes to survival situations. However, that doesn't mean that food should be given any less importance when you are putting together your survival pack or bug out bag in advance of, or in preparation for an emergency situation.

Ensuring you have a supply of food to eat will not only guarantee you receive all the nutrition and minerals you need for your body to function correctly, it will also help to maintain a good state of mind thus ensuring decision making processes are not negatively affected, which is an often overlooked but an extremely important factor when dealing with life and death situations.
Eating fresh food should always be your preference but that is not always an option during a crisis; particularly when you have had to bug out urgently. This is why making sure you always have food packed in your kit, food that can always be relied upon to provide sustenance whenever you need it, is just common sense.
Obviously you need to pack your emergency bag or store with foods that will not spoil and can be left for months on end, sometimes years, without going bad. Whilst there are multiple ready to eat foods available to the backpacker or prepper, few can outdo MRE meals for shelf life and choice.
MRE do not require cooking and can be eaten directly from the packet if necessary, although they do taste better when they are heated through.
The packages are well sealed and tightened to prevent moisture penetrating or escaping, which prevents rotting or drying out.
Now, back to the question of the 'Best' MRE!
The question is actually a little ambiguous and could either be asking, who produces the best MRE, or which is the best MRE meal or menu?
Let's tackle the first of those;
Which is the Best MRE brand?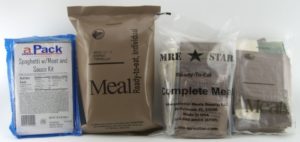 You have two main choices when it comes down to buying MRE. You can either buy a military MRE produced by one of these military contractors; Ameriqual, Sopacko, or Wornik, or you can check out any of the growing number of Civilian MRE producers, namely; MRE Star, Meal Kit Supply, or XMRE.
(Note: Ameriqual, Sopacko, or Wornik, all offer Civilian versions of their military MRE which are available under the product names; APack, Sure-Pak, and Eversafe, respectively.)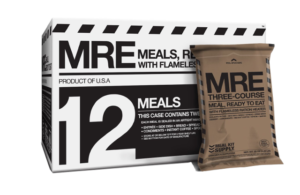 Most people will have an opinion as to which MRE they believe to be the best; this is where we at Alpha Survivalist are going to be a bit different.
If truth be known, all the MRE producers mentioned above will, in all probability, follow pretty much the same production methods, as well as providing similar, if not the same, menus as each other. So it is pretty hard to pick one above any other?
The main factors we at Alpha Survivalist consider when choosing which MRE to buy are;
How old it is
How much shelf life does it have left, and,
How much is it going to cost me!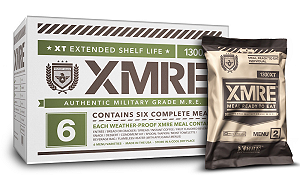 The first two of these factors are what generally swing us towards purchasing a civilian MRE rather than a military MRE. When you purchase civilian MRE you'll be receiving it directly from the manufacturer where it has been stored at the perfect temperature and for a relatively short time.
On the other hand the vast majority of military MRE that is available to the general population is in fact, surplus stock and unfortunately, it isn't always possible to check the history of surplus.
Before being sold on as surplus, MRE may have been moved around the world shadowing troop deployments, or possibly stored in a non temperature controlled warehouse for a period of time, and that's just the full cases of MRE tracing the history of a single MRE meal is even harder.
Even before you receive a recently purchased, single military issue MRE pack it may have already traveled more miles than your car, possibly having ventured out under the hot Middle Eastern sun, snuggled nicely into the side pocket of a soldiers' pack!
Personally, I don't see the point in taking risks with my emergency food rations, and would much rather choose an MRE that has been perfectly stored and delivered directly by the manufacturer over one that has a history I'm unsure about!
As for price, we don't like spending more than we need to so we'd always look for the best deal irrespective of the menu.
Understandably, some of you might be thinking, "Isn't it better to spend a little more and buy an MRE you'll enjoy eating?" which is a fair point and everyone has their own take on it. Our take is this; to us an MRE is survival food; it will keep us alive when there is no other food to eat. If we are being 100% honest, we'd prefer never to have to eat our MRE survival rations, but if we have to then we're not going to start worrying about whether we like the menu we are eating when others probably haven't got anything at all to chow down on!
Which is the best MRE menu or meal?
We're not very keen on subjective questions at Alpha Survivalist. We may have a liking for a specific menu that somebody else would find disgusting and vice versa, everybody has different tastes and preferences.
There may also be menus that you think, oh yeah, I really like the sound of that, but when you open and eat it you may wish you had left your taste buds at home!
That being said, we will go on record by saying that the Chili and Macaroni, which is currently menu 10, is pretty darn good and seems to be a hard and fast favorite with many MRE users making it as close to a sure thing as you are going to get. Unless you're a chili hater!
MRE Shelf Life – How long does an MRE last?
The official line is that all MRE are required to have a minimum shelf life of 3 years. However, shelf life will depend upon how the MRE is stored and at what temperature.
Storing MRE in excessive warmth 120°F/49°C can reduce shelf life down to just an estimated one month, whereas it isn't uncommon for 10 year old MRE to be perfectly fine with absolutely no degradation when stored at the perfect temperature of 50°F/10°C although 5 years is the suggested maximum.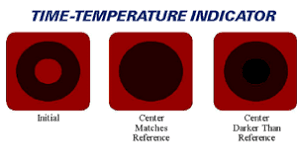 Another indicator that shows the 'freshness' of an MRE is called a TTI (temperature and time indicator), which can be found stuck on the outside of all MRE cases. The TTI is a black circle with a red center, as long as the center is lighter than the outer ring the MRE is good to use, if not then they should not be!
It has also been documented that certain elements of an MRE degrade quicker than others, especially when stored incorrectly; the main two items are the cheese spread and applesauce. The safest option, in our opinion, should you decide to try MRE for your emergency rations, would be to rotate your supplies on a 3 year basis.
Understanding the MRE date code
Knowing exactly when an MRE was produced is extremely important, without that information you have no way of knowing how much shelf life your rations have. Thankfully there are a number of ways you can check this.
Cases of MRE will often have two dates on them, the packaging date and a date of inspection which is typically around three years after the packaging date.
The packaging date will take one of two forms, either a straight forward date format, "10/12/12" (12th October 2012) or a four digit Julian date code, 2286, the first '2' will be for the year 2012, and the last three digits will be the number of days into that year, '286' which again equates to the 12th Oct.
Prior to 2003 individual MRE packs were not date stamped although each item inside the pack was individually stamped. However since we are now in 2020, We would advise to only use individual MRE packs that are dated because if they're not, they are probably way too old!
How many Calories in an MRE?
An MRE provides between 1250 and 1500 calories depending on menu which is not even close to what a very active person would burn in a day but there again, you are not limited to just one MRE a day!
It must be remembered that a MRE ration is not a substitute for a normal diet and that is why the military advises against them being used for any longer than 21 days max, and will always try to provide their troops with fresh food whenever possible.
For a more detailed breakdown of calories and nutritional facts for each menu visit the HPRC site.
How much does an MRE weigh?
An MRE will weigh between 18 and 26 ounces depending on the menu. This means they are heavier than a freeze dried meal of an equivalent calorific value.
The Flame-less Ration Heater – MRE Heater!
As mentioned earlier, MRE taste a whole lot better when they are eaten hot. Unfortunately, it may be the case that for one reason or another you can't heat up your MRE using conventional methods. No problem! That is where the flame-less ration heater proves invaluable.
The FRH uses a heat generating chemical reaction between water and a certain mix of chemicals, (magnesium, iron and sodium to be exact), to heat through an 8 ounce entrée up to a tummy warming 56°C!
What does an MRE consist of?
Each MRE consists of the following:
Entrée (main course)
Side Dish – mashed potatoes, corn, rice
Cracker or Bread
Spread – Cheese, peanut butter, or jelly
Dessert – pound cake or cookies
Candy – Tootsie rolls, skittles, M&M's
Beverages – Coffee, tea, cocoa, Gatorade type drink powders
Hot Sauce or seasoning – depending on menu
Accessories – toilet paper, spoon, gum, creamer, sugar, salt, waterproof matches
Flame-less Ration Heater
Should You Consider MRE's for Your Emergency Food Preps?
MRE's are not cheap!
When it comes to building an emergency food store, MRE's would NOT be our first choice, there are much more affordable and better options available, such as canned, dehydrated, and particularly freeze dried food.
In all fairness, MRE's are not designed to be part of a long term food plan or a large food store anyway. MRE's are designed to provide an individual with a meal that is ready to eat, requires no cooking, and that can be eaten whilst in a combat zone without any preparation.
It is our opinion that MRE's are not the best choice as an addition to a long term food store but as an emergency ration to be kept in your bug out bag or inch bag they are the perfect choice. if you are considering buying MRE's our advice is to buy them solely for this purpose and also not to buy too many of them.
Military MRE Menu lists for the past 4 years
1: Chilli with Beans
2: Beef, Barbecue, pulled
3: Chicken Noodles and Veg in Sauce
4: Spaghetti with beef and sauce
5: Chilli and Macaroni
6: Beef Taco filling
7: Beef Brisket
8: Meatballs in Marinara Sauce
9: Beef Stew
10: Chicken chunks, white
11: Vegetarian Taco Pasta
12: Elbow Macaroni in Tom Sauce
13: Cheese tortellini in tomato sauce
14: Fettuccine, Spinach cream sauce
15: Pork sausage patty, Maple
16: Pork patty, Barbecue flavor
17: Mexican style chicken stew
18: Beef Ravioli in meat sauce
19: Beef patty, jalapeno pepper jack
20: Hash browns with bacon
21: Tuna chunk light lemon pepper
22: Asian style beef strips with veg
23: Chicken pesto pasta
24: Southwest beef and black beans

1: Chilli with Beans
2: Beef, Barbecue, pulled
3: Chicken Noodles and Veg in Sauce
4: Spaghetti with beef and sauce
5: Chicken chunks, white
6: Beef Taco filling
7: Beef Brisket
8: Meatballs in Marinara Sauce
9: Beef Stew
10: Chilli and Macaroni
11: Vegetarian Taco Pasta
12: Elbow Macaroni in Tom Sauce
13: Cheese tortellini in tomato sauce
14: Fettuccine, Spinach cream sauce
15: Mexican style chicken stew
16: Chicken Burrito bowl
17: Pork sausage patty, Maple
18: Beef Ravioli in meat sauce
19: Beef patty, jalapeno pepper jack
20: Hash browns with bacon
21: Tuna chunk light lemon pepper
22: Asian style beef strips with veg
23: Chicken pesto pasta
24: Southwest beef and black beans

1: Chilli with Beans
2: Beef, Barbecue, pulled
3: Chicken Noodles and Veg in Sauce
4: Spaghetti with beef and sauce
5: Chicken chunks, white
6: Beef Taco filling
7: Beef Brisket
8: Meatballs in Marinara Sauce
9: Beef Stew
10: Chilli and Macaroni
11: Vegetable Crumbles with Pasta in Taco Style Sauce
12: Elbow Macaroni in Tomato Sauce
13: Cheese tortellini in tomato sauce
14: Creamy Spinach Fettuccine
15: Mexican style chicken stew
16: Chicken Burrito Bowl
17: Pork sausage patty, Maple
18: Beef Ravioli in meat sauce
19: Beef patty, jalapeno pepper jack
20: Hash browns with bacon
21: Tuna chunk light lemon pepper
22: Asian Style Beef Strips with Vegetables
23: Pepperoni Pizza Slice
24: Southwest beef and black beans

1: Chilli with Beans
2: Beef, Barbecue, pulled
3: Chicken Noodles and Veg in Sauce
4: Spaghetti with beef and sauce
5: Chicken chunks, white
6: Beef Taco filling
7: Beef Strips in a Savory Tomato Sauce
8: Meatballs in Marinara Sauce
9: Beef Stew
10: Chilli and Macaroni
11: Vegetable Crumbles with Pasta in Taco Style Sauce
12: Elbow Macaroni in Tomato Sauce
13: Cheese tortellini in tomato sauce
14: Creamy Spinach Fettuccine
15: Mexican style chicken stew
16: Chicken Burrito Bowl
17: Pork sausage patty, Maple
18: Beef Ravioli in meat sauce
19: Beef patty, jalapeno pepper jack
20: Hash browns with bacon
21: Tuna chunk light lemon pepper
22: Beef Goulash
23: Pepperoni Pizza Slice
24: Southwest beef and black beans
---