Updated March 03, 2021 – Having the Best Hand Crank Radio is, to put it bluntly, probably the best emergency preparatory item you could possibly have. It will be one of the most vital pieces of emergency radio communication in your survival kit.
A hand crank weather radio gives you a lifeline to the outside world. It provides you with access to the top alerts from the National Oceanic and Atmospheric Administration (NOAA).
You can waste a considerable amount of time selecting an emergency weather radio if you're not 100% sure what you're looking for.
There are literally hundreds of options from which to choose.
However, before you make a decision about which selection criteria are and are not important to you. You should address the question of whether a hand crank radio is actually your best option.
---
The Best Hand Crank Radio 2021
---
Evaluating the Power Draw – The Importance of an External Power Source
When the power grid is down, your emergency radio is the only thing that provides you with information you can trust about what's going on.
A natural catastrophe or even a military attack you need to be on your toes. You need to gather as much information about the situation as quickly as possible. So you can take any necessary measures to protect yourself and your family from any potential danger.
However, to get the most out of your emergency radio, you will need a lot of different features, including:
Power-sipping AM/FM connections.
Technical standards that allow the radio to receive area-specific NOAA communications.
Advanced radio technology and larger built-in speakers to help pick up even the faintest signals with greater ease.
LED flashlights, cell phone chargers, and USB connectivity.
As you might suspect, a regular transistor radio doesn't take too much power. However, when you add all the features mentioned above into the mix it will.
It's extremely important to buy a radio with an external power source, such as an AC adapter, and not to solely rely on batteries.
Hand Crank Radios with NOAA Weather Alerts are the Best Solution in an Emergency
Hand crank power generation will ensure that you have enough electricity to power your radio for as long as you need to. It will give you a clear advantage when the power grid is down. This is especially true over an extended period of time when batteries will become more difficult to find.
When you have no access to any other source of power, hand crank power generation is the perfect solution.
The technology behind hand crank power isn't new, far from it. It has been used successfully for decades in areas deprived of electricity due to disasters, and third-world countries where an electricity supply is rare.
Is a Hand Crank Radio as Good as a Battery Powered Radio?
Experts agree that a hand crank radio is a better option than a basic battery or AC-powered radio when there is no power grid.
That would probably agree that hand crank radios are a better alternative to radios with in-built added power banks or solar panels.
Every battery will eventually run out and rechargeable batteries will be useless if they cannot be connected to a power source to recharge.
Solar panels are a great energy source, green too, but they will only provide you with power for as long as you have access to sunlight. Unfortunately, guaranteed sunshine is not always possible in some emergency situations.
Hand crank radios use manual force to power up their internal batteries. So you can stay connected for as long as you need just as long as you or one of your family members can turn the crank periodically.
This reliability is what makes the hand crank radio an irreplaceable item of equipment. It simply has to be part of your survival gear.
Which is the Best Hand Crank Radio Currently Available?
The answer to that question will change quite often. Improvements to existing models and brand new models being released will continually raise the bar. What is the best today might not be in a week's time! The next section will therefore need updating from time to time, as these changes occur.
However, there are a couple of things that have a definite impact on which radios are added, or not added, onto our shortlist and they are:
Durability
There are many really good emergency weather radios with hand crank functionality that are only really suited for use indoors. These radios do not make our list!
Only radios that are made to be sturdy and durable, designed specifically with outdoor as well as indoor use in mind make our list.
This usually means that radios will feature an industry-rated degree of weatherproofness.
In a crisis, you may have no option but to leave your home and find safe shelter somewhere else. You will need to take your radio with you.
An emergency weather radio needs to be able to handle a few knocks and to work reliably outdoors in wet weather. If it can't, then it's not going to be of any use and it won't be on our list.
Cost
We have created our list based only on performance. Sometimes we will mention if a radio offers exceptional value for money. But the cost will have no bearing on its position on our list.
We only list what we believe to be the BEST hand crank weather radios currently available, irrespective of the cost.
However, at the time of writing all the radios on our list come in at less than $100, and most are less than $60!
Currently, the Eton FRX5BT is the most expensive radio on our list. Though, in our opinion, it is streets ahead of the competition as the short review below points out. That is why it is our top choice.
We'll be as informative and subjective as always in our reviews, but we'll leave you to make your own, and hopefully well-informed, decision.
---
Best Hand Crank Radio – Top Six
---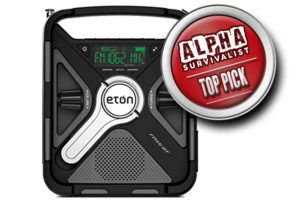 This excellent American Red Cross endorsed emergency weather radio from Eton excels in every department.
The Eton FRX5BT has the best reception, hand crank ratio, and loudest speaker of all the radios featured on our list.
This compact radio is chargeable in five different ways. It takes 5.5 hours to fully charge from a wall socket or USB connection.
As an emergency radio, working off-grid and without batteries, it excels. Operating for an amazing 13 minutes from just two minutes of cranking!
Solar charging is also better than other radios featured here taking just 6 hours in full sunshine to reach a full charge.
The FRX5BT has exceptional AM and FM reception. It also receives both NOAA and SAME weather alerts, making it the only radio on our list to feature SAME.
Extras include a siren, flashing red beacon, an LED flashlight, as well as Bluetooth functionality.
For our full review click here – Eton FRX5BT Emergency Weather Radio Review
---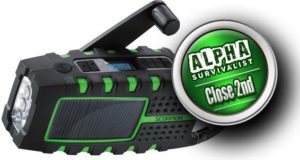 Small and durable, the Scorpion 2 is a great backpacker's weather radio. Able to withstand a lot of the rough treatment that all equipment receives when used out on the trail.
It is only 6.5" in length and 2.6" in height and weighs just over 10.5 ounces.
As with the FRX5BT, the Scorpion can be charged using any of five different methods. Again, this includes hand cranking and solar charging.
This radio takes four hours to reach full charge using a USB or wall socket and this will provide 12 and half hours of use at full volume!
To fully charge the radio with the solar panel in full direct sunlight takes 10 hours.
The Scorpion II offers excellent sound quality and radio reception. It performs very well in difficult terrain. It offers AM and FM radio which is tuned using a digital display and is also an NOAA weather alert radio.
Extras included are an LED flashlight and a built-in bottle opener!
Check out our full review here – Eton Scorpion 2 Review

---
The first thing that surprises most people is its size. The Runningsnail weather radio is VERY small. It fits comfortably in the palm of your hand. It measures just over 6" in length and just under 3" in height!
As with all the other emergency radios featured on our list, the MD090 offers AM and FM radio reception. It also receives NOAA weather alerts. Unfortunately, it is analog tuning not digital.
The radio can be charged using any of the 5 charging methods which include hand crank and solar.
The Runningsnail is supplied with a USB charging cable. You will need to buy cables if you want to charge by wall socket or car though.
The MD090 only requires 4 hours of charging via wall socket to reach full charge. When fully charged the Runningsnail will operate at full volume for an incredible 11.5 hours until it dies.
Hand cranking at 120rpm will provide 3 minutes of use for every minute cranked, more when used at a lower volume.
Other features include an LED flashlight and an SOS alarm.
Check out our full review here – RunningSnail MD-090 Review

---
Apart from the fact that this excellent radio is analog rather than digital tuning, there isn't a great deal to dislike about the KA500.
It has the standard 5 charging methods that all the radios on our 'best of' list have. USB, car, wall, hand crank, and solar. You will need to buy an AC adapter though as the radio isn't supplied with one.
The KA500 does have a very good return on power from its hand crank. One minute at 120rpm will provide a minimum of 10 minutes operating time, more when used at a lower volume.
The radio receives AM and FM frequencies, SW1, and SW2 shortwave frequencies, and the 7 NOAA weather alert bands.
The Kaito KA500 Voyager also has an LED flashlight, a red flashing SOS beacon, a low-level reading light. It is also available in 5 different colors as well as camouflage.
Check out our full review here – Kaito KA500 Voyager Emergency Weather Radio Review

---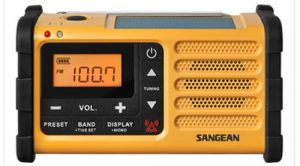 The Sangean MMR-88 is a compact emergency radio that can be easily carried in a backpack. It weighs only 0.86 lbs, and measures in at a height of 3.3″, a depth of 2.75″, and a width of 6″.
The Sangean MMR-88's battery is a small one and only lasts about 5 hours. But it takes less than 3 hours to recharge using an adaptor.
There is also a solar panel integrated into the body of the radio. Though it's not great as a charging method taking approximately 15 hours to fully charge.
However, the hand crank takes less effort than most other radios.
The MMR88's casing is made of toughened plastic with a rubberized edge to improve its durability. This will help to protect the radio from wear and tear, expected when you take a radio outdoors.
Additionally, the radio is resistant to water spray. So while it is always best to keep it dry, a bit of rain won't do much harm.
The radio excels in its audio quality, meaning it can be heard clearly at much lower volumes than other radios. Lower volume means a slower rate of power consumption.
The emergency features included are a siren and a flashlight, which can also be used as a strobe light, as well as a 90-minute cutoff to conserve power.
Check out our full review here – Sangean MMR-88 Weather Radio Review

---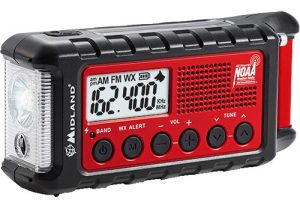 When faced with extreme weather conditions and other types of emergencies, you want to have a radio you can count on.
The Midland ER310 Emergency Crank Radio comes with multiple sustainable power options including a hand crank, solar, and a rechargeable battery.
Equipped with a Cree LED 1400LUX flashlight with adjustable brightness, SOS beacon with Morse code capability. USB charging ports for compatible devices and a high-frequency dog whistle to help attract search dogs in an emergency.
The ER310 offers a 2600 mAh rechargeable Li-Ion battery with up to 32 hours of usage. NOAA weather radio with weather alerts, and a 6 'AA' battery power option.
Dimensions are 8.0″ x 3.4″ x 2.4″
The crank radio is ideal for emergency situations, camping, extreme weather conditions or even black-outs, and preparedness. 2 minutes of hand-cranking at 120rpm will provide about 3.5 minutes of radio time.
The ER310 receives AM and FM radio well and the speaker is one of the loudest and clearest on the market. The only major flaw is the fact that it is not weather resistant.
Check out our full review here – Midland ER310 Weather Radio Review

---
FAQ about the Best Hand Crank Radio
How long do hand crank radios last?
It depends on the radio. Some quality hand crank radios, such as those covered in this post, last just as long as those operating with standard batteries. There is no difference in operating time when compared with regular radios.
However, in too many cases, as prices drop so does quality meaning other hand crank radios do not do so well. Unfortunately, there are way too many of the not-so-good radios.
Generally, the problem isn't with the hand crank technology itself, but with the rechargeable battery inside the radio. A sub-standard battery will not hold a charge for as long as it should. Nor will it have a long overall lifespan, whereas a good quality battery will.
What is the Best Hand Crank Radio on the Market?
As highlighted in our short review section above, you'll find it difficult to beat the Eton FRX5BT in our humble opinion. Although we are very interested in the new Runningsnail MD-097 weather radio too. It is very new and we haven't had a chance to review it as yet, but we will be doing so very soon.
---
Best Hand Crank Radio Summary:
Well, there you have it!
In our opinion, those are the best hand crank radios currently available!
We hope you have found the information provided on each of the radios listed above to be useful. And that it helps you arrive at a decision about which radio you are going to buy for your emergency preps.
We consider the Eton FRX5BT to be the top hand crank radio but that doesn't necessarily mean it is perfect for you!
You might be looking for something completely different from an operational viewpoint. Or simply a radio that doesn't cost as much as the FRX5BT.
Whatever you decide, make sure the radio you buy is able to do the best job possible of helping protect you and your family. At the end of the day, that is its primary role.